Fire classes A and F plus tested in fire class B
Innovative atomisation technology - the innovative atomisation technology (Telesto Technology inside) atomises the pressurised water into the finest mist. This allows water to be taken to a new level of extinguishing effectiveness in fire classes A, B (tested)* and F.
Environmentally friendly and inexpensive extinguishing agent - demineralised water in combination with outstanding atomising technology ensures almost universal application possibilities.
Minimised consequential damage from the extinguishing agent itself - water mist evaporates so strongly that it has little effect on sensitive equipment and surfaces.
Inexpensive refilling and no costs for disposal of the extinguishing agent - ideal even for inexperienced users.
A long functional life and resulting extinguishing agent reserves as well as the reduced radiant heat and binding of toxic gases by the water mist support the user in fire fighting.
Water mist extinguishers
Refillable, built as rechargeable fire extinguishers, the units can be used for up to 25 years with regular maintenance and normal use, thanks to their sustainable design, very good extinguishing effect due to the combination of several extinguishing effects, cooling effect, oxygen exclusion and reduction of radiant heat, innovative and robust impact button fitting, valve body made of glass-fibre reinforced polyamide without metal inserts susceptible to corrosion, comfortable handling thanks to ergonomic carrying handle (Classic lever handle or universal round handle) and weight-optimised individual parts.
Quality steel container for long service life with UV-resistant polyester resin outer coating and thermoplastic inner coating, large container opening M 74 for quick filling and easy container interior inspection, Telesto Technology inside to use water in fire classes A, B (tested) and F, its extinguishing effectiveness must be taken to a new level; this requires a unique nebulisation technology in which pressurised water is whirled up in such a way that it is atomised into minimal drops the so-called water mist.
Office and administrative areas
Warehouse for paper, organic materials and textiles
Restaurants, canteens, gastronomy
Commercial kitchens, fat bakeries
Medical facilities
Engineering rooms
Museums
Schools
Nursing homes
Textile industry
Shipping industry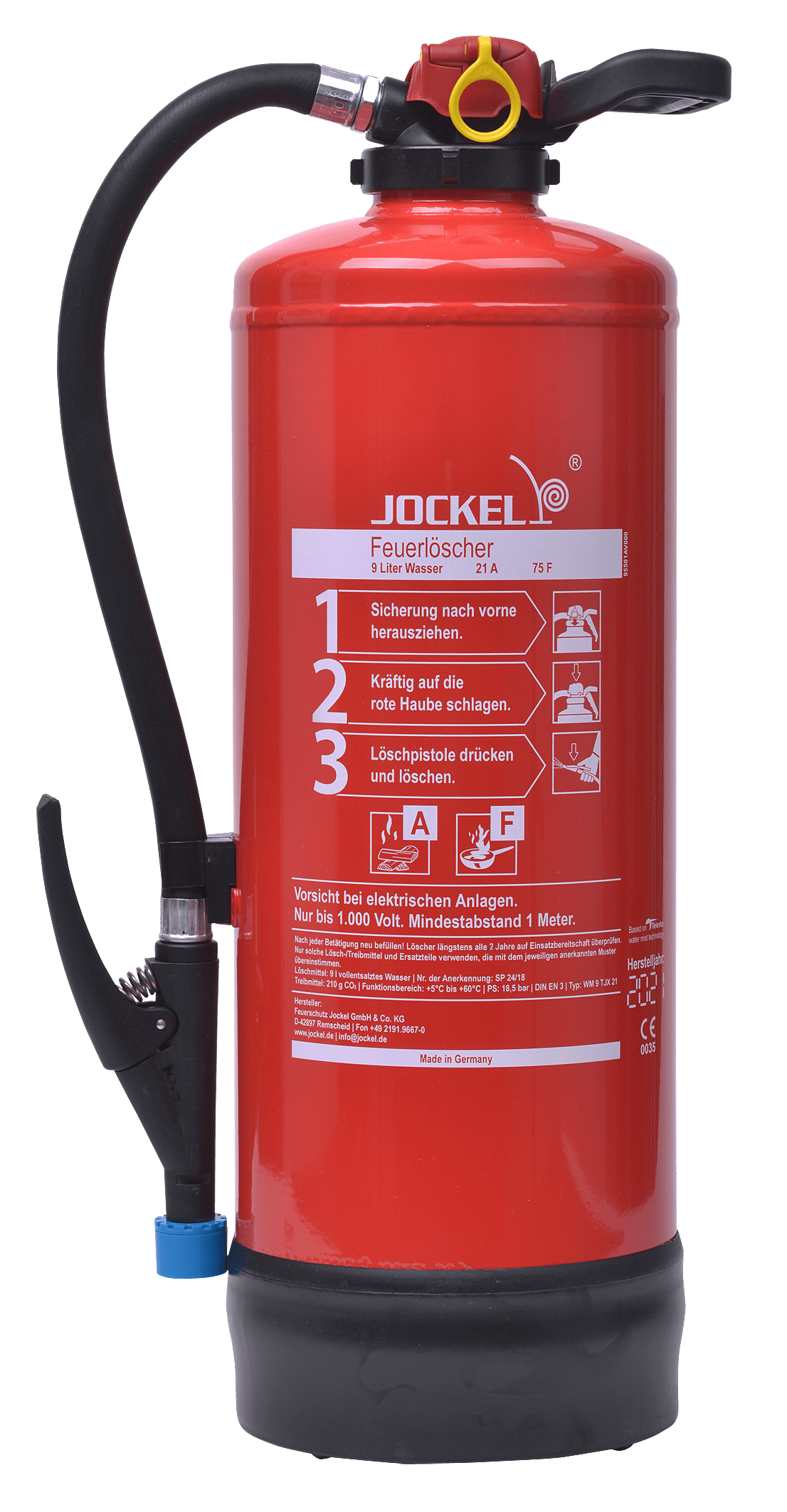 Water mist fire extinguisher
High extinguishing comfort thanks to an extinguishing pistol that can be placed down
Proven charging technology for long service life
Telesto Technology inside
Environmentally friendly alternative to AFFF foam extinguishing agents
Frost-proof variants available
Universal application possibilities in fire classes A, B and F
"Made in Germany"