The European Union has banned PFOA in firefighting foams in the EU since July 2020. 
https://www.umweltbundesamt.de/themen/eu-verbietet-pfoa
Feuerschutz Jockel has been producing sustainable fluorine-free alternatives in Germany since March 2016 to promote sustainability

.
Since the EU ban raises a lot of questions and there is a lot of uncertainty, the fire protection specialists of Feuerschutz Jockel have compiled the most frequently asked questions of their customers in order to offer their customers more security and transparency around the ban of PFOA in extinguishing foams. Per Fluor Octane Acid, also known as PFOA, is based on C8 chemistry and is a substance that belongs to the PFAS family and is found in firefighting foams, among other things. Between the years 2009/2011, these foams were replaced by Jockel with so-called "high purity" C6 foams and are now state of the art.
C6 chemistry is the current state of the art to extinguish fires efficiently and to quickly contain the environmental impact associated with the fire. These fire extinguishers are approved by the legislator and may be used without restrictions. Jockel marks these fire extinguishers with the BIO label. However, the substance properties of the entire PFAS family are considered to be of concern. For these industrially produced substances, further regulations are to be expected from the European Union in the long term.
Per- and polyfluorinated alkyl substances, so-called PFAs, belong to the family of halogenated fluorosurfactants used in various industries, including extinguishing agents for fire extinguishers. Due to the health risks, it is foreseeable that substances from the PFAS family will also be further regulated. "Further measures are currently being prepared and will probably be restricted within the framework of POP ( > perfluorohexane sulfonic acid [PFHxS]) or REACH ( > perfluorinated carboxylic acids [C9-14 PFCAs], undecafluorohexanoic acid [PFHxA]) in the next one to two years."(www.umco.de)
The legal basis of the European Green Deal already provides for restrictions on the marketing of persistent substances (including the entire PFAS family). The maximum limit value of PFOA to be complied with is 25ppb PFOA (0.025mg/kg) and is primarily aimed at extinguishing agent manufacturers. The European Union has set deadlines in the Official Journal from when Regulation 2019/1021 must be implemented in practice. In detail, this means that portable and mobile fire extinguishers can continue to be used for all extinguishing agents placed on the market before 04.07.2020 if substances containing PFOA can be collected. These must neither seep into the soil nor enter the sewage system unhindered. If this cannot be ensured, these fire extinguishers are no longer permitted from 01.01.2023. Only specialised disposal companies are responsible for the proper disposal of fire extinguishers. 
Feuerschutz Jockel recommends that its customers consider alternative, sustainable foams and refers to the GREEN GENERATION concept, which considers the risk assessment of extinguishing agents in their entirety. 
Consequently, the operator should question the use of foam fire extinguishers containing PFAS in the sense of responsible sustainability. The risk assessment of the extinguishing agent must determine when there is really a B fire hazard in the corresponding areas. In this case, there are already efficient, fluorine-free alternatives. Where a class B fire hazard is not explicitly given, the use of high-performance water extinguishers and/or water fog extinguishers makes sense and contributes significantly to the protection of our earth.
It advocates high-performance water extinguishers, water mist extinguishers and fluorine-free foam extinguishers to avoid the discharge of harmful or at least worrying substances. Due to the permanent further development of analytical methods and the associated regulations, the trend in the area of sustainability will continue in the future.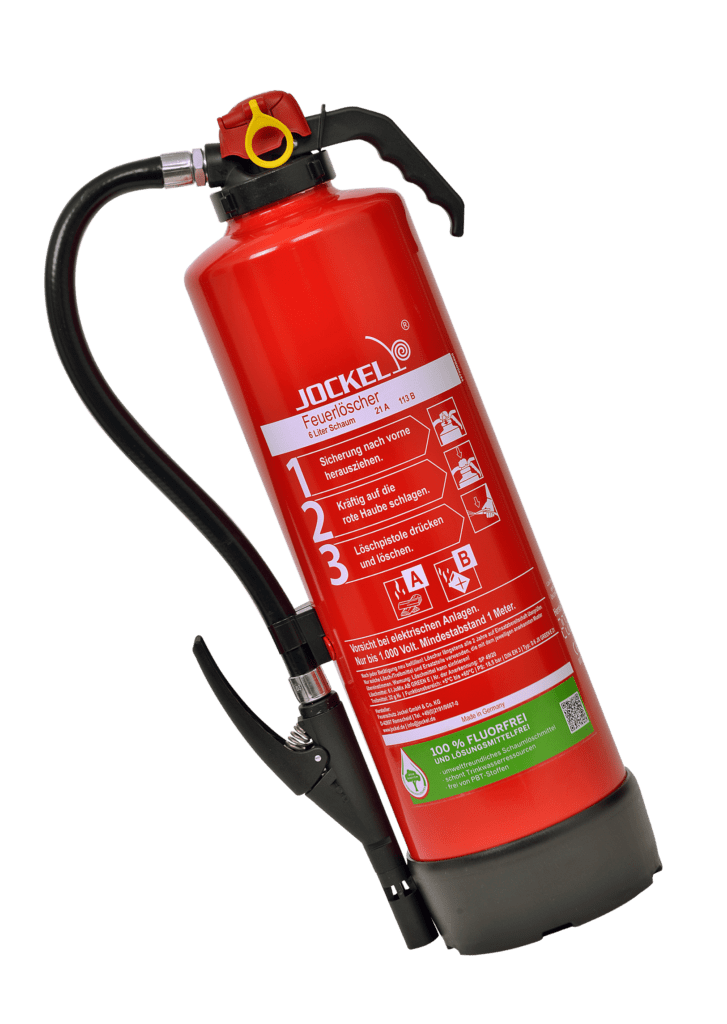 To further promote environmental protection and sustainability, Feuerschutz Jockel has set standards with the production of fluorine- and solvent-free alternatives.
In handling and use, these fire extinguishers are similar to traditional products. Even beginners and laymen can use the fluorine-free Jockel "GREEN" foam fire extinguishers without any problems, as they are easy and intuitive to operate. Due to their design, they have a comparably high extinguishing performance. Users can expect the same continuous extinguishing efficiency when successfully fighting incipient fires.
Exchanging fire extinguishers still in stock for fluorine-free Jockel fire extinguishers is possible without any problems and without accepting any loss of extinguishing performance. Feuerschutz Jockel only recommends adapting or having a corresponding risk assessment carried out before replacing the extinguisher. To ensure the functionality and safety of a fire extinguisher, they must be serviced regularly. This also involves replacing the extinguishing agent to the level of a legally permissible C6 foam extinguishing agent.
Since 2010 at the latest, Feuerschutz Jockel has only used foam extinguishing agents that are below the limit value and may therefore be used for fire fighting without restriction. Provided that a portable and mobile Jockel fire extinguisher has been properly maintained every 2 years in accordance with the applicable regulations and the maximum service life of the foam extinguishing agents is 6 or 8 years, users can assume that their device complies with the currently applicable regulations and laws and may be used without restriction for fire fighting. This is indicated on the fire extinguisher's label by a sticker with the updated approval number or name of the extinguishing agent filled in. 

You can find more information on environmentally friendly extinguishing here.
https://www.umco.de/de/blog/artikel/PFAS-Einschraenkungen.html